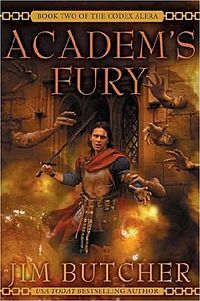 Academ's Fury is the second book in the Codex Alera series by Jim Butcher.
(from Amazon.com)
For one thousand years, the people of Alera have united against the aggressive and threatening races that inhabit the world, using their unique bond with the Furies--elementals of Earth, Air, Fire, Water, Wood, and Metal. But now, the unity of the Alerians hangs in precarious balance. The First Lord of Alera has fallen in his efforts to protect his people from the vicious attacks of their enemies. Now, the fate of the Alerians lies in the hands of Tavi, a young avatar who must use all of his courage and resourcefulness to save his people--and himself.
Tavi has managed to enter the Academy under the patronage of Gaius Sextus, the First Lord of Alera and is training to be a cursor. Despite facing bullying at the hands of other students due to his lack of furycrafting talent, Tavi has managed to make numerous friends among his classmates, such as Max and Ehren. Tavi is also serving as a page for Gaius Sextus. Isana has also come to the capitol to get her citizenship and join the Dianic league. Back at home in the Calderon valley, Doroga, the leader of the marat, warns Bernard and Amara of a new threat, the Vord. He tells them that one nest has been killed, leaving 200 out of a force of 2000 Marat. Another nest is in the Calderon Valley, and one of the queens seems to be heading towards Alera Imperia. Tavi is sent on a mission as a Cursor in training, to find the mysterious thief "Black Cat", who has managed to circumvent various fury guards to steal things. Gaius Sextus falls ill, and Max is called to replace him. However, during a fight, Max is arrested and Tavi must break him out of Jail. Isana is also kidnapped. Eventually, Tavi manages to catch the thief, who is revealed to be Kitai, one of his Marat friends who followed him to Alera Imperia. Using her talents, Tavi breaks Max out of jail. Back in the Calderon Valley, Bernard is investigating reports of disappearances and goes to investigate Aricholt, the new Kordholt. However, it is completely abandoned, with the exception of a few children kept in a bunker underneath. The vord attack the holt, possessing many soldiers, and Garrison Legion is forced to hide in a nearby cave. The Canim Ambassador, Varg, shows Tavi the nest of Vord in the Deeps, and Tavi goes to warn the Citadel.
Community content is available under
CC-BY-SA
unless otherwise noted.