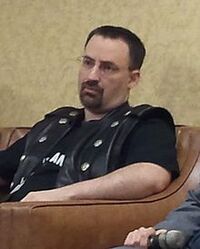 Jim Butcher is the author of the Codex Alera series. He is married to Shannon K. Butcher, a successful romance novelist. He is best known for writing The Dresden Files, another fantasy series that has been on the New York Times Bestseller list, and which was turned into a television show. He is mostly inspired by The Lord of the Rings series, which his sisters introduced him to when he was sick with strep throat as a child.
Jim Butcher has mentioned the original premise of what the Codex Alera would become was born from a bet. During the early days of the Del Rey Online Writers' Workshop the group was discussing which of these two points was more important: A great concept, which even a terrible writer could manage not to mess up, or a great writer, to whom any terrible topic was not too big a hurdle to creating a good story.
Butcher sided with the latter group, and eventually another writer challenged him to try to write a story based off the idea provided by the one who asked. Butcher was so confident, he said he would take two random concepts and include them both into the story. The two topics selected were Lost Roman Legion and Pokemon[1]. Thus the Codex Alera was born.
Community content is available under
CC-BY-SA
unless otherwise noted.